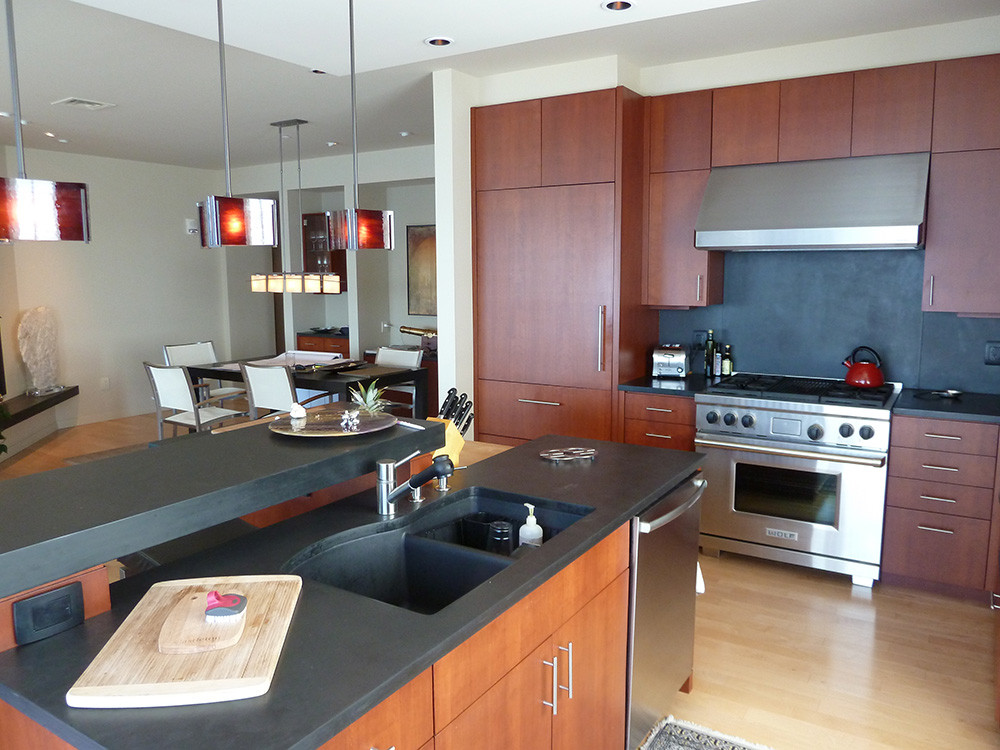 The lighting of residential spaces is very personal. Some people like to have very low lighting and always turn the lights off when they are not in the room. Some prefer bright spaces- day and night. Some homes house collections to be shown as in a museum. And most like to be able to change the lighting in their space whenever they like- not that this is unique to residential lighting.
Many designers prefer to keep the light sources nearly invisible, except for very special rooms where lighting is a special design element. Many spaces benefit visually from lighting that is built into coves, valences, and beams- adding evening drama to the architectural space.
Energy efficiency may be important to the homeowner, but it may not have even been considered. Often there is a need to educate homeowners about how better energy efficiency can be achieved without compromising quality and flexibility. Here are a few hints:
Using more lights than required costs more money now, and more for excess energy later. Lighting must be designed with an understanding of the maximum amount of light needed, with dimming or switching to reduce light levels to what is more commonly required.
Dimming not only allows us to select the amount of light needed, it helps extend the life of incandescent lamps.
Carefully choose downlights that will accept new lamp technologies, or retrofit recessed light trims with LED retrofit units. These often look and perform better over time than screw in lamps in the same application.
Select new decorative luminaires with standard bases that can easily accommodate LED or CFL lamps.
In larger homes, I strongly recommend use of lighting control systems that minimize the need to operate many individual switches. This can save on energy costs by keeping lights out when rooms are not being used. It also enhances security by allowing all lights to be operated from a bedroom, or even from a remote location. Other appliances can also be controlled by this same system.
Decide where to use hard-wired efficient lighting such as LED or fluorescent based on hours of use, need for higher light levels, and the need for dimming. While dimming fluorescent lighting is now easily done, there is a cost premium. LED's are more easily dimmed, but often require special attention to the type of dimmer used.
For table and floor lamps, as well as popular indirect hanging pendants, screw based compact fluorescent or LED amps are an excellent "green" solution. These products have come a long way since their introduction, and are now available in many shapes, sizes, and color qualities.
Exterior lighting for the home functions for both security and aesthetics. Exterior rated LED or compact fluorescent lamps work well when lights are to be left on for many hours, and a warm light color is desired.
When exterior lighting is placed on a motion sensor, LED lamps are ideal. While frequent on/off cycles will cause premature failure with compact fluorescent lamps, LED's are not only well suited to quick on/off cycles, they also prefer to operated in cooler conditions.